07.26.2021
On July 16, 2021, the BC Court certified the Glucosamine action against the defendants WN and Natural Factors. To learn more about this class action, click here.
04.20.2021
Settlements have been reached in the following actions:
Alternators, Automatic Transmission Fluid Warmers and Oil Coolers, Automotive Brake Hoses, Automotive Hoses, Fuel Injection Systems, Heater Control Panels, Inverters, Motor Generators, Occupant Safety Systems, Oxygen Sensors, Radiators, Spark Plugs, Starters, Steering Angle Sensors, Switches, and Windshield Wiper Systems.
The settlements are subject to court approval in Ontario, British Columbia and Quebec. The Ontario Court will hold a hearing to decide whether to approve these settlements at Osgoode Hall, 130 Queen Street West, in the City of Toronto on May 13, 2021 at 10:00 a.m. Depending on the status of the COVID-19 situation, the Ontario hearing may proceed by videoconference, teleconference or in writing. The Quebec Court will hold a hearing to decide whether to approve some of these settlements virtually on May 31, 2021 at 11:00 a.m. In accordance with the Canadian Judicial Protocol for the Management of Multi-Jurisdictional Class Actions, if the Ontario Court approves the settlements, the BC settlement approval applications will be heard in writing.
The settlement funds (plus interest, less court-approved fees and expenses) are being held in trust for the benefit of settlement class members.
The links below will redirect you to the long form notice which outline the nature of the settlements:
For additional information on this class action, please click here.
03.31.2021
Settlements have been reached with Air Canada and British Airways. For more information on this class action, click here.
03.01.2021
Approved – Automotive Wire Harness Systems, Air Flow Meters, Electronic Control Units, Fan Motors, Fuel Senders, Power Window Motors, and Windshield Washer Systems.
Settlements have been reached with all defendants in the Automotive Wire Harness Systems, Air Flow Meters, Electronic Control Units, Fan Motors, Fuel Senders, Power Window Motors, and Windshield Washer Systems actions and the Courts have approved protocols for the distribution of the settlement funds. The deadline to apply for compensation has passed.
Update April 2021: On behalf of Settlement Class Members who elected to assign their settlement benefits to charity, the Claims Administrator has provided the charities with your contact information and requested the charities issue charitable tax receipts. You do not need to take any further action in order to apply for the charitable tax receipt. All Settlement Class Members who were unable or failed to deposit their Interac e-transfer will be reissued payment via cheque. Cheques will be mailed in May 2021.
Please visit www.autopartsettlement.ca for further details.
02.25.2021
On February 4, 2021, Mr. Justice Mayer, the case management judge in the Boilermakers' Pension Plan action approved the settlement agreement, the distribution plan and appointed the defendant as the Administrator with respect to the Distribution Plan. You can access the oral reasons for judgement here.
For more information on this class action, please visit our Boilermakers' Pension Plan webpage.
02.05.2021
The British Columbia ODD class action will be certified for settlement purposes as against the Panasonic Defendants. For more information on this class action, click here.
02.03.2021
Camp Fiorante Matthews Mogerman LLP, Foreman & Company and Belleau Lapointe, s.e.n.c.r.l. are  pleased to announce that certification has been granted and a proposed settlement has been reached in the Canadian Parking Heaters Class Action.
A Parking Heater is a component used in commercial vehicles to warm the engine and cabin in lieu of idling the vehicle. A Parking Heater is defined in the lawsuit to mean a parking heater, accessories and parts sold for use with heaters, packages containing heaters and accessories and/or parts for parking heaters that were manufactured or sold by the Defendants for use in a commercial vehicle during September 13, 2001 and December 31, 2012.
You can find more information on our Parking Heaters Price Fixing page and on Foreman & Company's website.
01.08.2021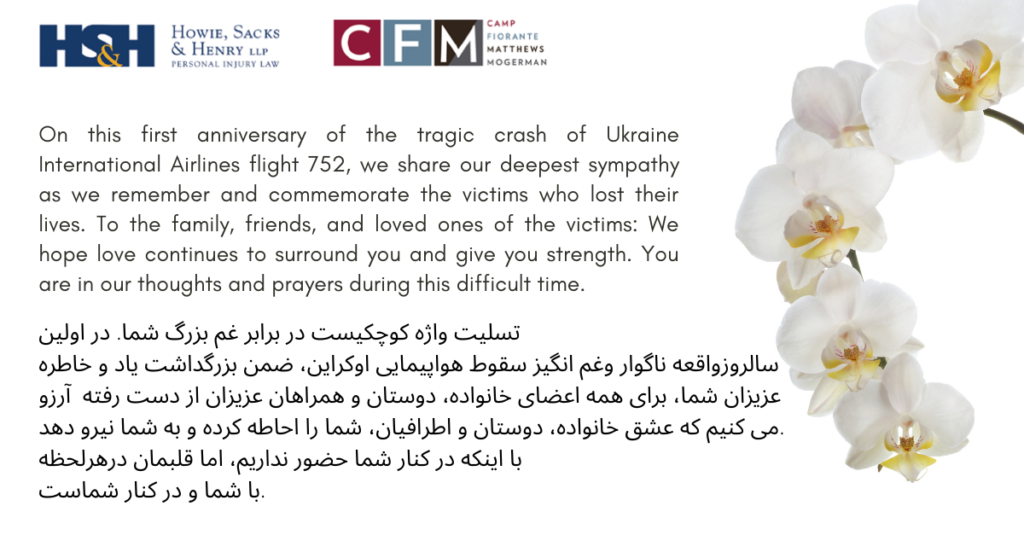 On January 8, 2020, Ukrainian International Airlines Flight (UIA) PS752 was shot down by an Iranian missile, minutes after takeoff from Imam Khomeini International Airport in Iran. All 176 people on board, including 55 Canadians, were killed.
CFM Lawyers and Howie, Sacks & Henry LLP are working together to represent families of Canadian passengers who were on Flight 752. We have lawyers and staff that can assist families in Farsi, and we are available to assist families across Canada.
CFM has prepared a summary of the avenues of compensation for family members impacted by the downing of UIA Flight 752. For more information, please contact Joe Fiorante, Q.C., David Jones, or Jamie Thornback.
09.25.2020
We think Jen Winstanley and Jamie Thornback are two of the best litigators we have worked beside and we are excited to announce that they have agreed to join us as partners. They have shown a tenacity, an intellectual thoughtfulness and a deep commitment to fighting for justice on behalf of their clients. We are incredibly proud to welcome them as our two newest partners. We know that they will continue to make CFM Lawyers a stronger firm. Congratulations Jen and Jamie! Looking forward to the post-COVID party to celebrate you.
CFM is co-counsel in the recent proposed class action lawsuit filed in Vancouver against Google, its parent company and its subsidiaries, on behalf of Canadian residents whose personal information was collected, without consent, by Google. The action is part of a coordinated national effort, with additional filings by members of our counsel group in Toronto and Montreal.
Read the Press Release: Google Faces Class Action in Canada Alleging it Turns Canadians' Electronics into Tracking Devices Without Their Consent